About Us
Purpose
The General Sir John Monash Foundation was established in 2001 with an initial contribution from the Australian Federal Government together with further contributions from corporate and private sponsors and donors. Its purpose is to raise funds for, and to administer, Australia's own postgraduate scholarships- the John Monash Scholarships- to foster leadership, expertise and international networks, as well as build Australia's capabilities for the future.
The John Monash Scholarships are postgraduate scholarships awarded to outstanding Australians with leadership potential who wish to study overseas. The John Monash Scholarships are amongst the most important postgraduate scholarships currently available in Australia.
Our Mission
Our mission is to invest in outstanding Australians from all fields of endeavour who demonstrate remarkable qualities of leadership and have the ability to deliver outcomes and inspire others for the benefit of Australia.
Ms Jillian Segal AO
Chairman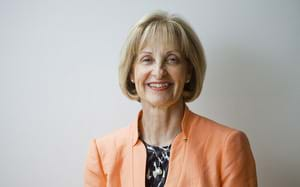 Jillian is Chairman of the Australia Israel Chamber of Commerce (NSW), Chairman of the Independent Parliamentary Expenses Authority (IPEA), Deputy Chancellor of UNSW Australia, a Director of the Garvan Institute of Medical Research, a Trustee of the Sydney Opera House Trust and a Director of the Grattan Institute. Jillian has recently been appointed as a Director of Rabobank Australia Limited, Rabobank New Zealand Limited and Rabo Australia Limited.
Previously, she was a Non-executive director of ASX Limited, NAB Limited, a Member of the Federal Government's Remuneration Tribunal, President of the Administrative Review Council, a member of the Major Performing Arts Board of the Australia Council and involved with a number of other not-for-profit organisations. Jillian is a graduate in arts and law from UNSW and has a Masters of Law from Harvard Law School. Jillian was a partner and later consultant, at Allen Allen & Hemsley solicitors from 1986 to 1996 and was a Commissioner of the Australian Securities and Investments Commission (ASIC) from 1997 to 2002, being Deputy Chair from 2000 to 2002.
Ms Annemarie Rolls
Chief Executive Officer

Annemarie Rolls is the Chief Executive Officer of the General Sir John Monash Foundation.
Annemarie is an experienced not-for-profit executive. Prior to joining the General Sir John Monash Foundation she was CEO of Schools Connect Australia, a NFP which brought businesses in partnership with disadvantaged schools. She led this organisation for 4 years, strengthening its marketing and economics and ultimately guiding its merger with the Australian Business Community Network (ABCN). Annemarie previously worked with the Australian Council for Educational Research (ACER) initially in Sales and Marketing followed by three years as General Manager and publisher of ACER Press. In support of her passion about the role of arts in the community she has produced a documentary, Dare To Be Different, which showcases the impact of an arts based curriculum on the learning of children with a range of disabilities at the Port Phillip Specialist School. She has a diverse global perspective and has lived, worked and studied in Fiji, Indonesia, New Zealand and the USA. Annemarie has a BA (Hons, cum laude) CofC, USA; MA Monash University; Grad.Dip. Education and Training, Victoria University. She is a member of the AICD.
Mr Steven Skala AO
Steven is Vice Chairman, Australia and New Zealand, of Deutsche Bank AG. He is Chairman of Wilson HTM Investment Group Ltd and a Director of the Australian Broadcasting Corporation and Hexima Limited. Steven is Vice President of the Walter & Eliza Hall Institute of Medical Research, a Director of the Centre for Independent Studies and is a Member of the International Council of the Museum of Modern Art in New York and the Advisory Council of the Australian Innovation Research Centre. He is a past Chairman of Film Australia Limited and the Australian Centre for Contemporary Art, a former director of Max Capital Group Limited, the Channel Ten Group, The King Island Company Limited, Rothschild Australia e-Fund Investors Pty Ltd and The Australian Ballet, a former Trustee of the Sir Zelman Cowen Foundation for Medical Research and a former Member of the Global Foundation and the Grievance Tribunal of Cricket Australia. Steven practised law in Brisbane, London, and in Melbourne where for almost 20 years he was a Partner and Head of the Corporate and Commercial Practice of Arnold Bloch Leibler, Solicitors. He was appointed an Officer in the Order of Australia in January 2010 for service to the arts, education, business and commerce.
Em. Prof. Peter Darvall AO
Peter is Chair of the National Selection Panel, having chaired the Victorian Selection Panel until 2009. He had a distinguished career in civil engineering and was at Monash University for 33 years, during which time he was the Dean of the Faculty of Engineering, Deputy Vice-Chancellor, responsible for research and development and information technology, and Vice-Chancellor and President of Monash University. Professor Darvall is the author of several books on mechanics and structures and has written numerous research papers on topics related to his areas of expertise. He has been a Board member of the Prince Henry's Institute for Medical Research, Montech, the Victorian Strategic Industry Foundation (SIRF), the Baker Medical Research Institute, the Institute of Reproduction and Development and the Cooperative Research Centres for Catchment Hydrology, Water Quality and Treatment, and Freshwater Ecology and was on the board of Melbourne Water until October 2009.
Mr Stephen Gerlach AM
Stephen is Chancellor of Flinders University of South Australia. He was formerly the Chairman of Santos Ltd, Futuris Corporation Ltd (now called Elders Ltd), Equatorial Mining Ltd, Elders Australia Ltd, Challenger Listed Investments Ltd, Amdel Ltd and Penrice Ltd and formerly a Director of Southcorp Ltd, Brunner Mond Holdings Ltd (UK) and Elders Rural Bank. He is the Chairman of Adelaide Capital Partners Pty Ltd and Gerlach Asset Development Pty Ltd and a Director of Beston Pacific Asset Management Pty Limited. Stephen was a partner of the Adelaide legal firm Finlaysons for 23 years and its Managing Partner from 1985 to 1991. At the present time, he is a member of the AICD and a member of the Corporate Governance Committee. He is a Trustee of the Australian Cancer Research Foundation, Chairman of Foodbank South Australia Inc, a Director of Foodbank Australia Ltd and a Trustee of Psychosis Australia Fund. He was a Director and an Honorary Life Member of the Australian Red Cross Society and a Director of the Flinders Medical Research Foundation.
Em. Prof. Alan Robson AO CitWA
Alan Robson served as Vice-Chancellor of The University of Western Australia from 2004-2011, following more than a decade as Deputy Vice-Chancellor and Provost (since 1993). He was Chair of the Group of Eight (2007-2010), Deputy Chair of the Council of the National Library (1998-2005), Deputy Chair of Universities Australia (2009-2011), a member of the Western Australian Science Council (2003-2009) and the CSIRO Board (2003-2008). He has also held the positions of Foundation Director of the Cooperative Research Centre for Legumes in Mediterranean Agriculture (CLIMA), Dean of the Faculty of Agriculture, Head of the School of Agriculture and Professor of Agriculture (Soil Science) at The University of Western Australia. In 2003, Professor Robson was made a Member of the Order of Australia, and awarded a Centenary Medal. In 2009, Professor Robson was made a Citizen of Western Australia and in 2013 was made an Officer of the Order of Australia.
Ms Carolyn Kay
Ms Carolyn Kay has had more than 30 years of experience in the finance sector as an executive and non-executive director. In addition, she has been and remains a non-executive director of enterprises across a broad range of industries. She is currently a member of The Future Fund Board of Guardians; a non-executive director of Australia-China Council, Brambles and Scentre. As an executive Ms Kay worked as a banker and lawyer at Morgan Stanley, JP Morgan and Linklaters & Paines in London, New York and Australia. She holds Bachelor Degrees in Law and Arts (University of Melbourne), a Graduate Diploma in Management (AGSM) and is a Fellow of the Australian Institute of Company Directors. She was awarded a Centenary Medal for services to Australian society in business leadership. She is married with 3 children.
Mr Leon Kempler AM
Leon is Chairman of Ducere and Chairman of Ducere Foundation and is the Vice Chancellor's Professorial Fellow (Monash University). His honorary roles include: National Chairman of the Australia-Israel Chamber of Commerce; Chairman of the Advisory Council of the National Science and Technology Centre (Questacon); Vice Chancellor's Professorial Fellow Monash University; Director of the Royal Children's Hospital Foundation Victoria; Chairman of the Audit Committee of the Royal Children's Hospital; Committee Member of the Monash University School of Music; and Director of Wonderment Walk Victoria.
Dr Mark Schembri
Dr Mark Schembri was appointed to the Board in 2016. He is a graduate from The University of Sydney with Honours degrees in Science and in Veterinary Science, and also of Harvard University with a Master in Public Health. He is currently working for the degree of Doctor of Vet Medicine at Sydney University. He is presently the deputy of St. Paul's College and lecturer at the Veterinary School at the University of Sydney.
Mark has a distinguished record as an equine veterinarian where he also serves as a member of the Australian College of Veterinary Surgeons in Theriogenology.
In 2007 he was elected the youngest-ever Councillor of the Royal Agricultural Society and presently serves as chairman of its Veterinary Committee. In 2008 he was appointed veterinarian to the Australian Equine Olympic team for the Beijing Games.
He serves as Veterinary Surgeon Director of Theriogenology at the Agnes Banks Equine Clinic in Sydney. He is presently a veterinarian for the Australian Turf Club and veterinarian for the Spring and Autumn Racing Carnivals at Randwick Racecourse. Mark is a Board Member of the University of Sydney Rugby Club and Student Liaison Member of the Faculty of Medicine at the University of Sydney.


He was the Crown Prince of Dubai scholar in 2001, and the Australian Equine Veterinary Association scholar in 2004 when he completed sabbatical study at Texas A&M University.
In 2009 he was awarded the General Sir John Monash Scholarship for study in the United States and spent two years at Harvard. At Harvard he lived at Kirkland House, where he was academic and music tutor. He also rowed for Dudley House, and he was veterinarian to the Harvard horse polo team.
He is Chairman and Musical Conductor of the Governors Christmas Orchestra and led the World Youth Day Sydney bid to Pope John Paul II on behalf of the youth organising committee in 2001. He has also been vice-captain of the Maroubra Surf Life Saving Club Patrol where he served as a race announcer and commentator at the Surf Life Saving Australian Championships. He was recognised as Educator Partner of the Year by the Veterinary Faculty at the University of Sydney for his teaching.
Ms Lee Liberman
Lee is Principal of the LJCB Group of Companies. She is also a Board Councilor of the USC Shoah Foundation, an Advisory Board Member of the World's Jewish Museum, and a long-standing Board Member of the Australia/Israel & Jewish Affairs Council. Lee is publisher and editor of A Day in the Life of Israel, Jerusalem in the Shadow of Heaven and A Day in the Life of Africa, and is Chair of the Day in the Life of Africa AIDS Education Fund. As a committed supporter of the arts, Lee served on the Council of the Australian National Gallery and the Australian National Gallery Acquisitions Committee. Lee provides strategic funding to non-profit partners in Australia, Israel and the United States.
Mrs Wendy Simpson OAM
Wendy Simpson is chairman of Wengeo Group a private investment group, which invests in industrial and commercial property developments. Wendy is the Chair of the General Sir John Monash Scholarship NSW selection panel and has been a member of the panel for over 7 years.Her pioneering achievements include – Founding Chairman of Springboard Enterprises Australia, a community-driven accelerator program that recruits, coaches, supports, and promotes investment-ready, high-growth companies led by women. She was the first woman appointed as a Senior Vice President of Alcatel Asia Pacific based in Shanghai, implementing sales of major mobile and broadband services to 17 countries. At this time, she was part of the team who negotiated with the Chinese government to bring the internet to China.
Other pioneering roles are being the first woman appointed by the Victorian government as the Chief Representative and Trade Commissioner for North Asia, she was also the first woman appointed to a freight operations role in the TNT International network and established the first QBE women's group whilst in a senior role at QBE insurance.
She has been a 3 times finalist in Telstra Businesswomen's Awards and in 2006, she was a finalist in the Shanghai Business Women of the Year Awards.
In the 2013 Australia Day honours list she was awarded an Order of Australia Medal (OAM) for her work with disadvantaged young people and a range of women's groups. She has been inducted into the Australian Businesswoman's Hall of Fame and in 2013 was listed as one of Australia's 100 women of influence by the Australian Financial Review.
Mrs Jan McCahey
Mrs Jan McCahey is the Global Public Policy Leader for the PwC network. In this role, she leads the network's research, thought leadership and community engagement activities on regulatory and public policy matters. She works with leaders in government, regulatory agencies and groups representing the accounting profession on matters relating to regulation and public policy.
Dr Jane Wilson
Jane, Chair of the Investment, Audit and Risk Committee, is an independent non-executive director with a background in finance, banking and medicine. She is currently a Director of Sonic Healthcare, Guardian of The Future Fund, Director Transurban group, and Co-Chair of The Australian Advisory Board on Technology and Healthcare Competitiveness. She was formerly Deputy Chancellor of the University of Queensland. Previous directorships include inaugural Chairman of Horticulture Australia, Chairman of IMBcom Ltd, Director of Bupa Australia & New Zealand, Universal Biosensors Ltd, Energex Ltd and Sun Retail Ltd, WorkCover Qld, and other small biotechnology companies. She was the Queensland President and Director of the Australian Institute of Company Directors (AICD) from 2002 to 2004, and named in the inaugural 2012 AFR/Westpac Top 100 Women Awards in the Board/Management category. She has a MBA from the Harvard Business School and a medical degree from the University of Queensland.
Alexandra Coelli
Scholarships Coordinator
Jacinda Liau
Executive Assistant & Office Administration
Bianca Moore
Director of Operations and Donor Engagement
Chuan Tan
Finance and Investment Manager