---
Batting For Change around the world, Ryan Carters not looking back at cricket
Article by Caden Helmers, Canberra Times (10th January, 2018)
Image: Karleen Minney, courtesy of Canberra Times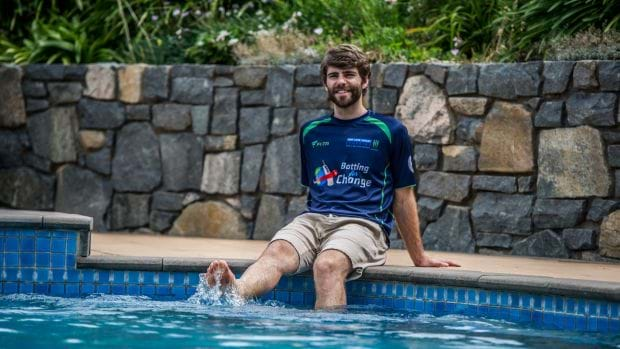 Ryan Carters misses the camaraderie around the change rooms, the exhilaration of playing on the big stage and even "the simple joy of hitting a cricket ball". But the fact he's making a difference in the world means he's not looking back.
The Canberra product announced his shock retirement from professional cricket from high in the mountains in Bali despite being just 26 years old seven months ago. The former Wests-UC star had Sheffield Shield and domestic one-day titles to his name but he knew it was time to walk away and make a difference elsewhere. He's not lost to the game – Carters turned much of his focus to his charity work with Batting For Change, which raises money for disadvantaged women in cricket-playing nations. And of course there was the small matter of finishing his degree in philosophy, politics and economics at Sydney University.
It shouldn't have come as a surprise because Carters always had different career goals, despite his obvious cricket talent that saw him earmarked as a future Australian player. "There's definitely certain things that I miss, it's been a lifelong passion after all," Carters said. "I miss some of the camaraderie at training and at matches. I miss the healthy competition, I miss having a bat in my hands and the simple joy of hitting a cricket ball."
"But I'm comfortable with the decision that I made because I really wanted to commit myself to these new challenges and make a bigger difference in the community, and I'm pleased that I've started to do that."
Whether it was his University Admissions Index score of 99.95, his tertiary studies or setting up the "Batting for Change" charity – Carters' ambitions didn't always fit the cricketing mould. He once spent three weeks paddling 1000 kilometres from Mongolia to Russia's Siberian border and then set up Batting for Change, which raised more than $150,000 in the last Big Bash League season for educational opportunities for disadvantaged women in cricket playing nations.
But Carters has raised the bar this summer – he wants to raise $250,000 over the summer, having already raised $100,000 to support two new teachers colleges in Nepal and Tanzania through two events. The charity has run a "pledge per six" fundraising model in recent BBL seasons but that is being replaced this summer by a bumper Batting For Change Cup pre-match party at the SCG on Saturday.
"In short the idea is that each time the Sixers play the Thunder, they play off for the Batting For Change Cup which is a gesture from the two teams to acknowledge Batting For Change and the message it promotes," Carters said.
"We're trying to capitalise on that gesture to get as many people as possible along for a fun afternoon of food, drinks, music and entertainment.
"Then we're all going to march to the SCG together, take up a bay of seats and make a strong statement about the importance of cricket for bringing people together and supporting education around the cricket playing world.
"We're hoping to raise $100,000 through the event which will enable us to launch new scholarships in India and Sri Lanka which will support 300 women."
He was the NSW Sheffield Shield player of the year in 2013-14 and the one-day player of the year in 2014-15, finishing his career with five first-class centuries and a top score of 209*. Now Carters is about to start a new job as a consultant at a public sector firm before jetting to the United States to undertake a masters in public policy at a leading university on a Sir John Monash scholarship.
Done with changing a match with sparkling strokeplay, Carters is already changing the world.
Article also available online here, you can read more about Ryan's charity 'Batting for Change' and the amazing work they do here