---
Welcome to this fortnight's edition of MonashMinds. As we begin to commence interviews with applicants nationwide, we thank the generous work of volunteers and panellists - enabling us to champion the achievements of scholars, their research, and their future leadership endeavours.
In this edition we share the research of scholars from a variety of areas, ranging from ophthalmology to climate science, celebrating their work's innovation and potential for ongoing social impact.
---
The relationship between Indigenous health care and Artificial Intelligence
Healthcare experts from around the world have been invited to attend a global conference in Broome, WA, regarding Artificial Intelligence (AI) in eye care. The conference, which is planned to take place in October 2023, hopes to examine a variety of issues at the intersection of AI and ophthalmology whilst incorporating the lens of Indigenous experience.
Dr Mark Chia, 2021 Commonwealth Bank John Monash Scholar, will be presenting at the conference - drawing upon his understanding of Indigenous health to help examine the ethical implications of AI diagnostic tools.
Mark's research includes Indigenous eye health prevalence, AI diagnostic validation for Aboriginal Australians, and novel biomarkers in multimodal ocular imaging. He is currently a PhD candidate at University College London and hopes his work will enable early diagnosis and prevention of diabetes in rural Australia.
---
Policy makers decide next steps at Australia's annual Bush Summit
---
Jillian Kilby, 2013 BHP John Monash Scholar, presenting the list of action points drawn from this year's Bush Summit. The Summit concluded with 17 recommendations, including the establishment of a Regional Taskforce and the implementation of building restrictions within flood-prone areas.
---
Jillian Kilby, 2013 BHP John Monash Scholar and chair of the Bush Summit Rural Advisory Panel, has presented the 2023 Bush Summit communique - listing the action points which have been decided on at this year's conference.
The annual summit brings together policymakers from around the country to discuss the challenges faced by regional communities. Now in its fifth year, Jillian hopes that the outcomes from the summit will enable improved social and economic conditions for those living in the region.
"The Bush Summit responds to the immediate needs of regional, rural and remote areas", says Jillian.

"In 2019, the Bush Summit put a spotlight on the worst drought in Australian history... It's excellent how the Bush Summit puts policymakers, politicians, and locals on stage and in the same room."
---
Victoria's bail law reforms still falling short

---
Sarah Schwartz, 2019 Roden Cutler NSW John Monash Scholar, has co-authored an article calling for greater leniency in Victoria's bail regime for the purpose of preventing undue trauma and further social disadvantage.
The article, published in The Conversation, states that the progressive hardening of Victorian bail laws over the past decade has made bail more difficult to obtain, disproportionately impacting Aboriginal and Torres Strait Islander people in contact with the criminal justice system.
Sarah is currently the Principal Lawyer of the Wirraway Practice at the Victorian Aboriginal Legal Service.
---
Uncovering new treatments at the forefront of cancer research
---

---
Professor Mark Dawson, 2006 John Monash Scholar, has helped publish a paper uncovering the development of novel cancer treatment therapies. The research was conducted by the team at Professor Mark Dawson's laboratory within the Peter MacCallum Cancer Centre in Melbourne, Australia.
The paper, entitled 'Inhibition of METTL3 results in a cell-intrinsic interferon response that enhances anti-tumour immunity', was published in the internationally recognised scientific journal, Cancer Discovery. These findings demonstrate the therapeutic potential of drugs targeting METTL3 as immuno-oncology agents and the corresponding potential for targeted killing of cancer cells.
---
Spoiling illusions: gender inequality within the arts sector
---

---
The Countess.report, an ongoing independent artist-run research project, has just published its latest piece - focusing on the reality of gender inequity in Australia's visual arts sector. Supported by an extensive set of data and analysis, the report is titled 'Countess: Spoiling Illusions Since 2008' and has received an enthusiastic response since first launched in late July.
Shevaun Wright, 2017 Australian Cultural (Tim Fairfax AC and Australian Council of the Arts) John Monash Scholar, leads this ongoing project alongside Amy Prcevich, Elvis Richardson and Miranda Samuels. As an artist, Shevaun uses her commercial law background to re-contextualise dialogues as a tool for engaging in institutional legal and artistic critique.
---
Pioneering policy in the digital age
---

Milan Gandhi, 2022 Lee Liberman John Monash Scholar, and colleague Siddhi Pal, both from the University of Oxford's Blavatnik School of Government.
---
Milan Gandhi, 2022 Lee Liberman John Monash Scholar, has presented his preliminary policy research to the Estonian Government's Data Working Group, or the Ministry of Economic Affairs and Communications Estonia.
Milan's findings relate to the emerging policy considerations existing at the intersection of Artificial Intelligence (AI) and harmful content online, developed whilst working at the Institute for Strategic Dialogue in London.
Milan was one of three presenters from the University of Oxford's Blavatnik School of Government and hopes his final report, due later this year, will assist policymakers in navigating this rapidly evolving digital realm.
---
From the Field: developing climate modelling from the base of a glacier
---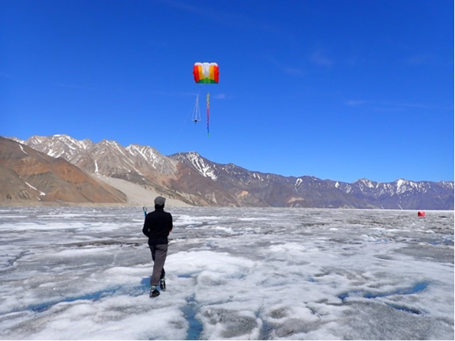 ---
Lieutenant Hannah Phelps, 2021 Chairman's Circle John Monash Scholar, has recently completed her second year of fieldwork at the Donjek Glacier, Canada, near Alaska. Hannah is completing her PhD in Atmospheric Science from the University of British Columbia, working to improve glacier modelling and behaviour forecasting within a changing climate.
We spoke to Hannah about her experiences so far whilst working in the field.
---

In the first photo, Hannah shows us the stations used to collect climate data.

"[This is the] automatic weather station we set up on the Kaskawulsh glacier – the tower on the left is 5m high and measures wind speeds, temperatures, radiation, rainfall, ice temperatures and pressure. The tower on the right is a little shorter and predominantly measures turbulent heat fluxes."

The second image shows a member of Hannah's team standing atop the Donjek glacier.

"This photo is from the Donjek glacier, showing the set-up of a moulin installation. We put a pressure sensor down the moulin (which is like a massive waterfall in the ice surface) and try to get it deep enough that it sits in the water table at the bedrock of the glacier...The pressure measurements we take on the Kaskawulsh and Donjek glaciers are one of very few datasets of its type."
---
"This has been my second year doing fieldwork in this region and whenever I am up there I feel so incredibly lucky to be working in such a special part of the world. I am so appreciative of the support of the Monash Foundation that allows me to do this research, which I think is both critically important and hugely personally fulfilling."
---
PODCAST: The Quantum Leap - Bridging Science and Industry with Dr. Thomas Hanna
---

---
In this week's episode we speak with Dr Thomas Hanna, 2004 John Monash Scholar, about using advanced scientific rigour to shape data-driven culture within organisations.

After completing his studies in Atomic and Laser Physics at Oxford and working as a postdoctoral fellow in the USA, Tom played a key role in Fortescue's expansion and went on to establish the Hypercube Scientific Consulting Group in 2018.
---
Katherine Mansted, 2016 Roth/Segal John Monash Harvard Scholar, has been mentioned in an article regarding TikTok's recent plans to establish a new research and development department in Australia.
The article considers whether this may be a move by TikTok to address public concerns regarding data security. Katherine, as Cyber CX's Executive Director of cyber intelligence and public policy, is referenced by the article as suggesting the move is an effort by TikTok to demonstrate separation between its business operations in Australia and its ties to China. Read more.