Winter Newsletter 2018
From the desk of CEO, Annemarie Rolls

Dear Friends,
This newsletter reflects on a very significant period of the year for many John Monash Scholars with graduations in May and the 2018 Scholars finalising their places at destination universities, travel plans, sorting accommodation and in a number of cases getting married and engaged! Some Scholars are already in situ and well into their new chapters.

Congratulations on recent graduations to Hannah Barber, Garang Dut, Michael Grebla, Bridget Hickey and Katherine Franklin. As brilliant as our Scholars are, it is still a massive effort to complete challenging post graduate degrees and with such high standards of achievement. Well done to all!

I am pleased to share additional news of a number of prizes awarded in the past couple of months:
Ryan Carters (2018) has been awarded a Harvard Knox Fellowship.
Amy Burton (2018) received a Georgetown University bursary
Louis Klee (2018) UNESCO City of Literature Program Residency in Krakow
Dr Ida Whiteman (2017) has received a Blavatnik School of Government Public Service Scholarship
Michael Grebla (2016) was awarded Dean's Honours at his May graduation
Bridget Vincent (2006) received a British Academy Rising Star award
Lauren Ward (2015) Leslie H Paddle Scholarship from IET
Jill Kilby (2013) won the NSW-ACT AgriFutures Rural Women's award.
Andrew Frampton (2016) has been awarded the immensely competitive Merton College Graduate Prize Scholarship for the upcoming 2018-19 academic year.
At Foundation HQ we are now focused on the 2019 applications, with only a couple of weeks to go before applications close on the 1st August. Alexandra Coelli (Scholarships Coordinator), is busy answering application queries and finalising arrangements with our many generous and dedicated volunteers, who will review applications and interview the potential new John Monash Scholars. We are looking forward to discovering who our applicants are and embarking on the intense but gratifying process of interview panels. Regardless of whether applicants ultimately become John Monash Scholars or not, we are always inspired by the many talented, clever and interesting people we meet through the process.

We are also marking this special 100th Anniversary year of the significant battles of WWI that lead to the end of the War in 1918 in a variety of ways. You will see stories below about the unveiling of the new John Monash statue and AFL games in Villers-Bretonneux among other things. We are looking forward to the General Sir John Monash Commemorative Service at Parliament House on the 3rd August, one of many around the country organised by the Spirit of Australia Foundation and a Commemorative dinner at The Hotel Windsor, a venue significant to Sir John Monash. He was Chair of Melbourne Hotels Limited, a new company formed in 1920, which purchased the Grand Hotel (as it was called at the time).

I invite you to pause and reflect on the great sacrifice the men and women of Australia made in WWI, to remember our national hero General Sir John Monash who brought wisdom, effective strategy and humanity to the horrors of that conflict. We hope you will be inspired by the news from the field and we look forward staying in touch.
Warm regards,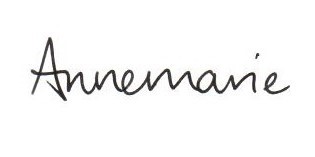 2019 John Monash Scholarship Applications
Applications for the 2019 John Monash Scholarships are currently open and will close on August 1st. Each year we receive many applications from outstanding individuals that exemplify the John Monash Scholar's qualities of excellence and leadership. We have received phenomenal response from all our supporters and potential applicants and look forward to another year of welcoming many more into the John Monash Scholar alumni.
For those who believe they may have what it takes to be a John Monash Scholar, more information on applying can be found here. Further enquiries can be directed to info@johnmonash.com. Time is of the essence with applications closing 11:59 PM 31st July 2018 AEST, but you can still complete an application and remember you have nothing to lose!
---
John Monash Scholarships Information Session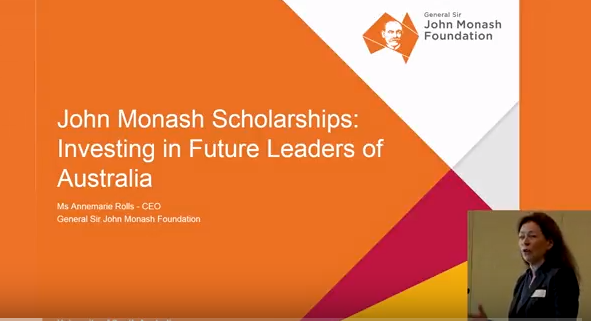 Our CEO Annemarie Rolls was at many of the Prestigious Scholarships Information Sessions at universities around the country providing an in-depth overview on what makes a John Monash Scholar and how you can apply.
Watch the video recorded at the University of South Australia now! We also ran a webinar on 16th July which if you are interested in listening to you can access it here.
---
Unveiling of the General Sir John Monash Sculpture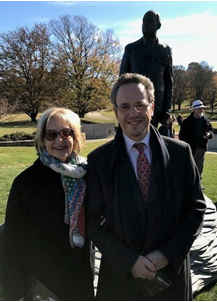 A sculpture in dedication to General Sir John Monash's legacy has been unveiled at The Australian War Memorial. Located in the Memorial's Sculpture Garden in Canberra, the sculpture was unveiled at a ceremony attended by the General Sir John Monash Foundation's Chairman Jillian Segal AM and the great grandson of General Sir John Monash, Michael Bennett (pictured).
The July 4th ceremony was also a commemoration on the 100th anniversary of one of General Sir John Monash's most significant achievements; the Battle of Hamel. This was a significant historical event during World War I where General Sir John Monash led the Allied troops to a victory against the German forces in a battle that lasted 93 minutes. "Hamel is an outstanding example of Monash's military acumen, planning ability and leadership," Lieutenant General Angus Campbell AO DSC, Chief of Defence Force, said as he delivered the commemorative address.
The sculpture was commissioned in 2016, as a collaboration between sculptor Charles Robb and poet Sarah Holland-Batt. It depicts General Sir John Monash in a civilian suit, his Returned and Services League badge and a book in his hand. "This is reference to his literary dimension," Robb said. "But it could be a field notebook, it could be a diary, or it could be a book of poetry. It's got that open-ended reference to a whole range of the different intellectual spirit that he really brought to the various tasks that he applied himself to, including the war."
The Australian War Memorial is located in Canberra and is open to visitors, more details can be found here.
General Sir John Monash Foundation Event Videos on YouTube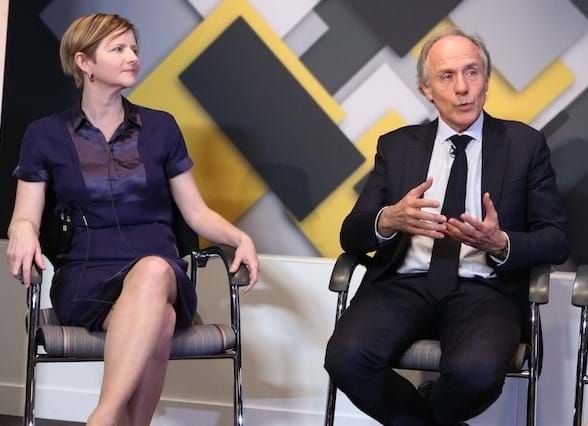 Picture: Dr Alan Finkel AO and 2004 John Monash Scholar Lara Olsen at the 2017 Oration
We've been hard at work at adding content to our YouTube channel and are excited to announce the following videos are now available to watch:
The 2017 John Monash Oration held on August 28th 2017 at the Commonwealth Bank of Australia's Colonial Theatre in Sydney. The keynote speech was by Australia's Chief Scientist, Dr Alan Finkel AO with 2004 John Monash Scholar Lara Olsen providing a response.
The 2018 John Monash Scholarship Presentation Ceremony on February 23rd 2018 at the Melbourne Shrine of Remembrance. This event presented our 2018 John Monash Scholars with their certificates in the presence of over 150 Foundation supporters, friends, scholars and family.
The Global Leadership Symposium – New York was held in New York on March 2018 15th & 16th. This event was an engaging and inspirational event for the 40 John Monash Scholars from all over the world as they took part in a series of talks and activities on the centenary of the Battle of Hamel.
---
Diary Dates
August 1st Applications for the 2019 John Monash Scholarships close
August-September 30th initial online review and State and Territory interview rounds
October National Panel interviews
October 8th John Monash Leadership Oration, Sydney
December 11th John Monash Announcement Ceremony
Sir John Monash Centre at Villers-Bretonneux Opening Ceremony, ANZAC Dawn Service & ANZAC Cup

Picture: (left) Dr Genevieve Martin featured in a photo for the Opening of the Sir John Monash Centre with Prime Minister of Australia Malcolm Turnbull, and, great grandson of General Sir John Monash, Michael Bennett (second from right), picture courtesy of the Sir John Monash Centre Homepage.
The following was written by our 2014 Wesfarmers John Monash Scholar Dr Genevieve Martin, recounting her experience attending the Dawn Service in Villers-Bretonneux, the opening of the Sir John Monash Centre, and participating in the ANZAC Cup.
On April 25th 1918, the town of Villers-Bretonneux was successfully defended, in a battle that is considered by many to have played a critical role in the outcome of the World War I. One hundred years later, I travelled to Villers-Bretonneux to take part in events to commemorative events. Having moved overseas as a young Australian, I reflect on the young age at which many of my relatives left Australia to serve their country – and how difficult that must have been for them and their families. To be able to attend the Dawn Service in Villers-Bretonneux and play in the ANZAC Day match was a very special way to remember their contributions.
The opening of the Sir John Monash Centre at the Australian National Memorial took place on the 24th April, to coincide with the Western Front centenary commemorations. I was fortunate enough to be able to attend this opening, and to meet with the Prime Ministers of Australia and France, Malcolm Turnbull and Édouard Philippe, to share my family's connection to the Western Front. Waking early the following morning, I walked in the dark to attend the Dawn service, a moving service which was attended by thousands.
The ANZAC Cup is an Australian Rules Football match played on the afternoon of ANZAC Day in Villers-Bretonneux between the 'Australian Spirit' and French teams. I played in this special match – and to bolster the French numbers I pulled on the blue, red and white kit and played against my Australian teammates. The match started out close but the Australian team pulled away with a clear lead to defeat the French women 74 to 21. Having never played in Australia, I began playing AFL shortly after arriving in the UK to start my studies as a John Monash scholar – when the Oxford women's team was in its infancy. Sport has a special ability to bring communities together and for me the AFL community in Oxford has been an important part of my time here. The ANZAC Cup is a special way of commemorating those who have served, whilst continuing to maintain the connection between Australia and France today.
The three days spent in Villers-Bretonneux was an incredible experience. I stayed with a local family and was blown away by the welcome and hospitality we received from the people of Villers-Bretonneux. As a John Monash scholar, it was very special to be able to attend the opening of the John Monash Centre and to learn a little bit more about Monash's contribution.
The Sir John Monash Centre in Villers-Bretonneux, France is now open to the general public, bookings are available here.
---
Dr Genevieve Martin stars on and off the field:
Interview for Oxford Sparks at the 2018 RHS Chelsea Flower Show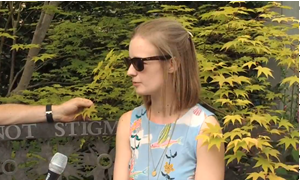 Genevieve, currently studying for her DPhil in Clinical Medicine at the University of Oxford, is conducting research in the field of HIV Cure, working with immune systems and their reaction to viruses. Her study focuses on primary HIV infection and the effects of getting therapy early to control the virus.
Genevieve was recently interviewed by Professor John Frater with Dr John Thornhill to discuss her work. The Facebook live interview for Oxford Sparks can be watched here.
Picture: Dr Genevieve Martin being interviewed at 2018 RHS Chelsea Flower Show on Facebook Live
---
From the field: Dr Ben Etherington
This section of our newsletter features Alumni reporting from the field with stories of their exploits and enterprises after study is completed. This edition's 'From the Field' feature is 2005 John Monash Scholar, Dr Ben Etherington.
I returned to Australia in 2012 after seven years at the University of Cambridge to take a job at the multi-campus University of Western Sydney (which, after expensive syntactical surgery, is now called Western Sydney University). Medieval streets were replaced with jammed commuter highways, a small elite student body with a large and diverse cohort drawn from Sydney's working class and migrant suburbs, and an atmosphere of elite achievement with one of hard-graft aspiration. (Which isn't to imply that Western Sydney lacks for outstanding students. The best can be almost inexplicably brilliant, especially when you look at some of the circumstances they have faced, and I hope some of them feature among future cohorts of Monash scholars.)
At UWS/WSU I joined the wonderful Writing and Society Research Centre – a group that takes what you might call a 'whole of book' approach. Its staff include publishers, novelists, poets, critics, translators, editors and scholars. It is home to one of Australia's best independent publishers, Giramondo, the longform review journal Sydney Review of Books, as well as writing groups for upcoming writers from Western Sydney.
The Centre has been a great place to be based in order to live up to the academic and civic spirit of the Monash Foundation. I have continued with research into primitivism begun at Cambridge, publishing Literary Primitivism with Stanford University Press last year. Primitivism is a utopian idea that posits humanity's ideal state as being its supposed originary natural condition. It's an ideology that has gained new traction as environmental catastrophe and seemingly insuperable global inequality have again led many people to idealise humanity's original state as being a kind of natural idyll (something which I discussed in a recent episode of the ABC's Philosopher's Zone). While finishing that project, I have been travelling regularly to the Caribbean to begin new research on the history of poetry written in the region's distinctive creole languages. A notable offshoot of this was a collaboration with my fellow 2005 Monash alumnus Matthew Baker to make a radio feature for Radio National on Jamaica's unique dancehall music scene. Most of the audio for it was collected at open-air dance parties between and 5am.
I've been involved with the Sydney Review of Books from its inception. Its first publication in 2013 was the opening salvo of a series I write on Australian literary criticism called 'Critic Watch', which, as you can probably guess, attempts to do for cultural criticism what ABC's 'Media Watch' does for journalism. It's also given me the space to explore the intricacies of contemporary higher education policy; something that was set in train when I set up the National Alliance for Public Universities with colleagues to defend our university system from deregulation in 2014. Perhaps the most exciting thing that has come out of being a member of the Centre is participating in an ARC-funded project exploring alternatives to the cosmopolitan ideal of 'world literature' (the project is called 'Other Worlds'). This has involved working with some of Australia's most interesting writers to explore the idiosyncratic ways that they are inspired by and make connections with writers from other places. In September I'm heading to Doomadgee in the Gulf of Carpentaria with the Waanyi novelist Alexis Wright to spend a couple of weeks with an elder activist Clarence Walden to record a radio feature about his life and times. I introduced Wright's work into the curriculum when I was a postdoc at Cambridge, which shows that returning home really can bring one's studies as a Monash Scholar to life.
Ben's recent book 'Literary Primitivism' published by Stanford University Press, is available for purchase online. He has recently written for ABC News here, and Los Angeles Review of Books here. He has also written for The Conversation here on 2018 Stella Prize winning Alexis Wright, whom he is also collaborating with on The Australian Research Council Discovery Project Other Worlds: Forms of World Literature.
Kathryn Roberts Parker
Matriark Theatre at the Sydney Fringe Festival
The following was written by our 2014 John Monash Scholar Kathryn Roberts Parker, who is currently deep in preparations for her new production Urza and the Song in the Dark to premiere at the Sydney Fringe Festival.
I have always believed in the power of theatre to bring people together. This is what drew me to research the music of Shakespeare's theatre in my Masters degree at King's College London and Shakespeare's Globe theatre on the John Monash scholarship, which I am now continuing in my PhD. Early modern playhouses so naturally facilitated a communal space between audience and performer, highly contrasting to the modern experience.
It is this communal essence of theatre at its historical roots which we have been exploring in our contemporary work for children in Matriark Theatre. In our shows there are no borders between the performing space and the audience, and young people are invited into the playing space to participate. In this work, the imaginary space of performance becomes real and enticing, and it is so beautiful to have children calling out to characters onstage, laughing along and engaging with the story without restraint. This is what we believe to be the magic of theatre, as a place to gather and share stories, and why we're so excited about our new work, Urza and the Song in the Dark. We have created a new children's fable set in a subterranean wonderland of complex caves, underground lakes and fantastical creatures. The story features a young girl named Urza who is lead by mysterious song on an adventure to find her way back to the surface. Along the way she befriends a lost explorer, is pursued by a mysterious, dark force and finds herself caught up in a primeval story of mythical proportions.
---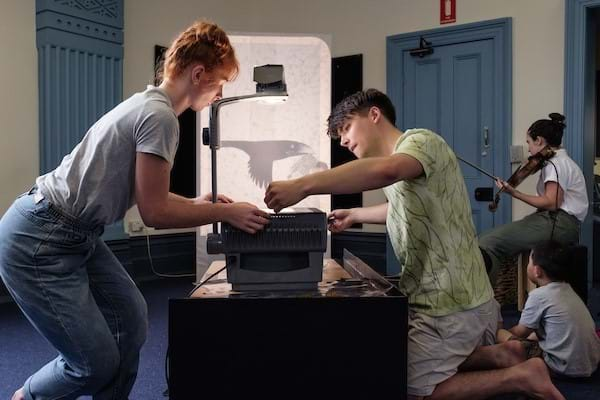 ---
Matriark Theatre has been making accessible theatre in residence with the City of Sydney at Waterloo Library.
I am really excited about this work, because for the first time, I am bringing my knowledge of the historical relationship between traditional music and theatre from my own research into new compositions. A chance for me to explore the dramaturgical possibilities of music in contemporary theatre practice, and I will be performing the music live, as a dynamic part of the performance and in direct connection with the audience. This show will premiere at Sydney Fringe in September 2018 and will be part of the opening of the new City of Sydney Library at Green Square, as well as Customs House and Glebe Library in January 2019. We are very grateful to have been creative residents with the City of Sydney for the past 2 years since I returned to Australia, and with the support of council we are looking to form new relationships in regional NSW for more opportunities to have accessible, free performances for the public in unusual spaces in a future tour of Urza and the Song in the Dark.
We currently have a tax-deductible donations page set up through the Australian Cultural Fund to help us achieve this goal and get the work shown at Adelaide Fringe in 2019 in front of major regional presenters. If you are interested in supporting, you can find out more here. I'm always so encouraged by the regular opportunities for connection and ideas sharing as part of the John Monash alumni community. My postgraduate study overseas was invaluable to the formation of our vision in Matriark Theatre and I am excited to see where it leads us in the future.
Kathryn's PhD research is funded by the ARC Centre of Excellence for the History of Emotions. You can find out more about the project here.
For more information about Visit the Matriark Theatre homepage for more information.
---
John Monash Scholars in the News
John Monash Scholars receive great media coverage and produce a large number of publications, work and research which the Foundation communicates to its followers via the following channels: our Website, LinkedIn, Facebook, Twitter and YouTube. We encourage you to follow us on these platforms so you can keep up with their prolific work and achievements.

In case you have missed it, here are just a few highlights from the last quarter.
---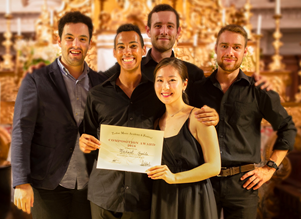 Michael Grebla
Premiere of New String Quartet at the Zodiac Festival in Nice, France
Our 2016 Zelman Cowen John Monash Scholar Michael Grebla (pictured left with members of the Festival who formed Quartet 1 to play his piece) participated as a featured composer at the Zodiac Academy & Festival. The Festival is known for its opportunity in showcasing promising young musicians in a training and performance program in Nice, France.
Congratulations to Michael for winning the Composition Award for most outstanding new work for of the festival!
Michael graduated from the New England Conservatory with a Master of Composition in May. We are all excited to follow him in the next step of his career as a proud John Monash Scholar!
Click here to watch his video.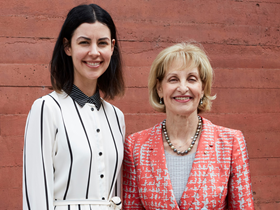 Shevaun Wright
Exhibition of 'Apologies' at MARS Gallery
2017 John Monash Scholar Shevaun Wright recently exhibited her latest work 'Apologies' at the MARS Gallery in Windsor, Melbourne from June 28th to July 14th.
The work features Prime Minister Rudd's apology to the Stolen Generation contrasted against an appeal by Andrew Bolt and Herald and Weekly Times Pty Ltd against Pat Eatock.
Shevaun is currently studying a Master of Fine Arts at University of California, Los Angeles. Her art regularly explores themes of danger, domestic violence and Indigenous rights.
Full details on the exhibition can be found here.
Picture: Shevaun Wright and Jillian Segal AM at the 2017 John Monash Scholarships Presentation Ceremony.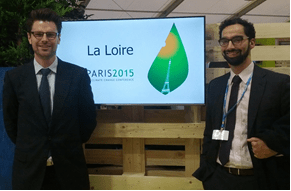 Fergus Green
Cutting with both arms of the scissors: the economic and political case for restrictive supply-side climate policies
2012 John Monash Scholar Fergus Green has been receiving attention over his recently published article 'Cutting with both arms of the scissors: the economic and political case for restrictive supply-side climate policies', published in Climatic Change.
The paper has been discussed in detail in an article for The Narwhal, and addresses issues in understanding climate policies in relation to demand. Fergus utilises studies on how tobacco use reduction policies enacted in Australia employed various restrictions on the production or selling of tobacco.
"The main message is that restrictive supply-side policies need to be in the toolkit and we need to be cutting with both arms of the scissors: both demand side and supply side" Fergus said to DeSmog Canada.
Fergus Green is currently an independent consultant for climate change strategy and policy, as well as a Research Assistant for the International Coal Transitions Project (Australian team) at the University of Melbourne and Australian National University. He has also recently published 'Comment: The Logic of Fossil Fuel Bans' for Climatic Change, and 'China's 'exported carbon' peak: patterns, drivers and implications' for Geophysical Research Letters.
Picture: Fergus Green and 2016 John Monash Scholar Arjuna Dibley at the 2015 United Nations Climate Change Conference (COP 21).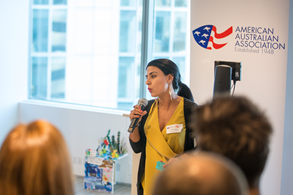 May Samali
Persian Women in Tech and Jolly Swagmen Podcast
Our 2014 NSW Premier John Monash Scholar May Samali has been hard at work at providing strong representation for women of colour in today's tech industries. She was a key panellist in the 'Diversity in VC Investing' Panel for the Persian Women in Tech SF June 2018 event. The effort to bring more Persian Women Entrepreneurs to the forefront of the tech industry has May as one of the few spotlighted by Forbes.
Most recently, she has shared her own personal journey with The Jolly Swagmen Podcast. In their June 13th episode, May shares her story starting from becoming a lawyer in Sydney, the big decision to go to the Harvard Kennedy School to study a Master in Public Policy, and her role today as a Senior Associate at the Urban Innovation Fund.
The podcast can be listened to here and we're eager to follow her in her next steps as a proud John Monash Scholar!
Picture: May Samali at the John Monash Scholars Global Leadership Symposium 2018 in New York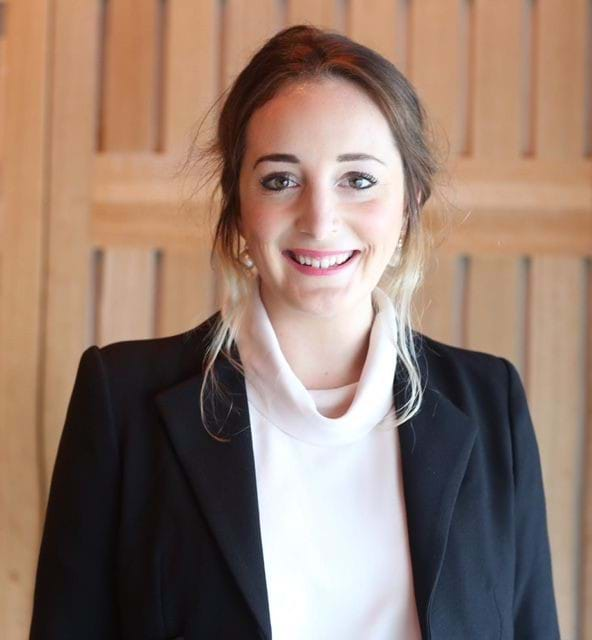 Dr Ida Whiteman
Blavatnik School of Goverment Public Service Scholarship
2017 Helen and Michael Gannon John Monash Scholar Dr Ida Whiteman has been awarded the prestigious Blavatnik School of Government Public Service Scholarship as she commences her Masters in Public Policy at the University of Oxford.
Ida, with the support of her Michael and Helen Gannon John Monash Scholarship will shortly complete her Masters of International Health and Tropical Medicine at Oxford this year. After completing the Masters in Public Policy, she intends to work as a paediatrician with Australia's Indigenous children and to guide public policy to address the root causes of infectious diseases and poor health outcomes in the Indigenous community.
Congratulations to Ida on this incredible achievement! We wish her all the best on this next exciting part of her journey undertaking a Masters in Public Policy Oxford.
Picture: Ida at her John Monash Scholarship Announcement in Sydney, 2016
More On Our John Monash Scholars...
2014 John Monash Scholar Kathryn Roberts Parker was recently part of Ninefold's production of 'Wyrd: Season of the Witch' as Dramaturg. 2014 John Monash Scholar Sarah Lux-Lee had her company Mindr, featured in the article 'Talking Arms Control with Babes in Arms' in the May 14th New Yorker Issue. 2018 Origin Foundation John Monash Scholar Marianne Haines has been featured in 'A Slice of Science', a short YouTube series presented by Origin Energy. 2011 John Monash Scholar David Smerdon has co-written an article for The Conversation discussion the average lifespan of a chess grandmaster; read the article here. 2010 John Monash Scholar Dr Catherine Stubberfield has written an Opinion for The Sydney Morning Herald discussing the hardships of family separations for refugees; the article can be read here. 2006 John Monash Scholar Dr Kate Manne was interviewed by Sean Illing for Vox while her book continues to receive critical acclaim; the article is available to read here. 2004 John Monash Scholar Dr Jacqui Baker was the guest for the Perth USAsia Centre Podcast discussing police corruption in Indonesia; listen to the episode now here. 2017 John Monash Scholar Dr Martin Seneviratne's app CancerAid is now integrated with Epic Systems and Apple's HealthKit to provide further support and communication for health professionals; more details can be read here. 2009 John Monash Scholar Dr Amy Mclennan was a guest for The People vs Devices (which can be listened here), discussing the growing dependency on technology and the dangers it may pose. 2007 John Monash Scholar Dr Gemma Sharp has presented her recent in-depth study on penis enlargements and the motivations to undergo the surgery by men. An article featuring the study by ABC can be read here. 2012 John Monash Scholar Madeline Gleeson was a speaker for 'Boats and Beyond' by the Kaldor Centre for International Refugee Law, a recording is available here. 2018 John Monash Scholar Louis Klee has recently published reviews for The Sydney Morning Herald (here) and Overland (here).
Please remember to let us know what you are doing and publishing around the world.