Presentation Ceremony of the
2022 John Monash Scholars
---
---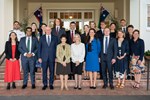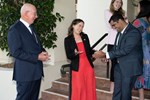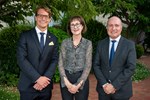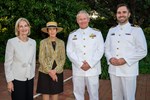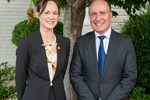 ---
On Wednesday the 16th of February, His Excellency General the Honourable David Hurley AC DSC (Retd), Governor-General of the Commonwealth of Australia and the Foundation's Patron-in-Chief, presented 16 of our 2022 John Monash Scholars with their Scholarship Certificates.
It was a privilege to again enjoy the hospitality of the Governor-General and his wife, Mrs Hurley at Government House in Canberra, as we held our most important event for the Foundation's calendar year. Unfortunately two of our Scholars, Emma Garlett and Cassandra Joore-Short, were not able to attend.
This year we have welcomed a total of 18 new John Monash Scholars into our community including a Biomedical Engineer, Graphic Artist, Maritime Warfare Officer, Doctor of Cognitive Neurology and Speech Pathologist. These esteemed Scholars were selected from 245 applicants across Australia, based on their academic excellence, leadership potential and demonstrated community service to date.
We thoroughly enjoyed the company of our 60 guests who were able to attend this occasion, including Foundation supporters, friends, Scholar alumni and families in what is sure to be a memorable occasion for all.
In her address to our guests on the evening our Chairman of the Board Ms Jillian Segal AO specially acknowledged the guests that were able to attend this occasion despite the current volatile travel environments:
Judy Brewer Fischer AO and her son Dominic
Frances Millane, who chaired our national panel last year, Chairman's Circle member
Louise Herron, CEO of the Opera House who also sits on our National Panel
Richard Gration, national and state panellist and Chairman's Circle member
University friends of the Vice-Chancellor of the Australian National University Prof. Brian Schmidt and Prof. Susan Dodds, Deputy Vice-Chancellor La Trobe University
On behalf of the Foundation and Board of Directors, we would also like to extend a big thank you to PwC who hosted us in their Canberra offices for our meetings and Scholarship induction this week.