---
We warmly welcome you to our first edition of MonashMinds for August. As the days are getting a bit longer and brighter, we take pause to reflect on the year that has passed and look forward to what the coming months will bring.
In this edition we join you in welcoming our newly appointed CEO, reunite with some very good friends of the Foundation for our 20th anniversary and share the innovative and positive impact of Scholars research on their local communities.
---
Paul Ramadge named new CEO of General Sir John Monash Foundation
We are pleased to announce the appointment of Mr Paul Ramadge as the Foundation's new Chief Executive Officer.
Paul brings to the role extensive national and international leadership experience in higher education, cross-cultural engagement, funding, not-for-profits and media organisations.
Paul has served as a consultant for various higher education institutions, offering invaluable expertise in strategy, business planning, governance and international ventures. His career in higher education includes notable positions such as the Managing Director of The PLuS Alliance, a prestigious collaboration between UNSW Sydney, King's College London, Arizona State University, as well as the inaugural Director of The Australia-Indonesia Centre based at Monash University.
Paul has held significant leadership roles within media organisations, notably at The Age, and has chaired a not-for-profit organisation.
Foundation Chair Jillian Segal AO said: "The Foundation is thrilled to have attracted someone of Paul's ability and experience to the role. We look forward to him bringing his unique set of skills and background to the position."
---
New role for Greenvale MP
---
---
Iwan Walters, 2012 John Monash Scholar and first term Greenvale MP, has been given a parliamentary secretary role by Premier Daniel Andrews. Iwan will support the Victorian government with major program evaluation, policy reform and public consultation within the disability and carers sector. This includes assisting the Disability and Carers Minister, Lizzie Blandthorn, with the Commonwealth's review of the NDIS and supporting the Social Services Regulation Taskforce's streamlined system reform.
Elected to represent the new seat of Greenvale at the November 2022 state election, Iwan was named parliamentary secretary for disability and carers on Tuesday August 1.
---
Seeking a better solution for offshore processing

---
Madeline Gleeson, 2012 John Monash Scholar, has co-authored an article calling for a more equitable and sustainable approach to the offshore processing of asylum seekers. The article, published in The Conversation, draws on a some of Madeline's research and argues that the Australian government should take on a greater level of responsibility for fostering cross-jurisdictional strategies that prioritise a human rights based approach.
Madeline is a lawyer and Senior Research Fellow at the Andrew & Reneta Kaldor Centre for International Refugee Law at UNSW. She specialises in international human rights and refugee law, with a particular focus on the law of state responsibility, the extraterritorial scope of human rights obligations, offshore processing and the protection of children.
---
Redesigning the way we measure wellbeing
---

---
Federal Treasurer Jim Chalmers has announced the launch of 'Measuring What Matters' – Australia's first national wellbeing framework. The Centre for Policy Development (CPD) has structured the adaptable and innovative framework based on 50 wellbeing indicators corroborated over several years of research.
Andrew Hudson, 2005 John Monash Scholar and the CPD CEO, spoke to the ABC regarding the Framework's design. By considering a broader set of social indicators, the Framework intends to measure population wellbeing based on contemporary community priorities.
While still currently in its initial phase of development, Andrew hopes that, once finalised, this work will be embedded into government decision making and used as the basis for effective policy design.
---
First Nations writers make their mark at New Play Awards
---

---
Bronte Gosper, 2021 Gandel Foundation John Monash Scholar (Arts), was a finalist in the Australian Theatre Festival awards, an annual celebration of Australian stories and artists in New York City. Her story, titled 'Yiraway (Mirage)', is a tragicomedy that explores the perils and comforts of settler Australia's illusions within the context of the performing arts industry itself.
Bronte is a documentary filmmaker, playwright and actress. As a proud Wiradjuri woman, she is interested in the intersection between oral history, theatre and Indigenous art-making.
---
Container returns scheme to benefit Victorians
---

---
First Suppliers (beverage manufacturers and importers) will now be required to pay the cost of operating the Victorian container deposit scheme, CDS Vic, and have been advised of the price per container as set by VicReturn.
Jim Round, 2014 Australian Universities' John Monash Scholar and CEO of VicReturn, has announced that they will oversee the pricing and invoicing for the initiative.
Jim hopes that their pricing benchmark will strike the right balance between ensuing adequate scheme funding while keeping the costs as low as reasonably possible for First Suppliers. The initiative aims to ensure an efficient, convenient and sustainable container deposit scheme for all Victorians.
---
---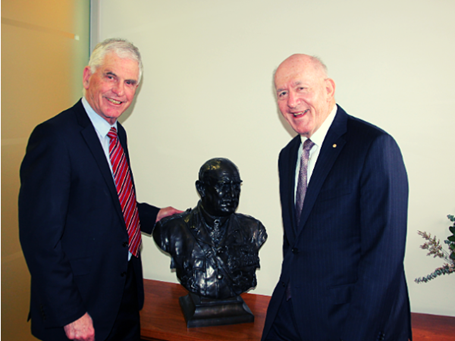 Ken Crompton and General the Honourable Sir Peter Cosgrove AK CVO MC (Retd).
---
This week the Foundation welcomed some very special guests – lifetime members Ken Crompton and General the Honourable Sir Peter Cosgrove AK CVO MC (Retd).
Sir Peter has been a friend and valued member of the Foundation for over a decade in his roles as the Foundations Chairman, a Chairman's Circle member and then Patron, whilst serving as the Governor General of Australia. Ken, our inaugural CEO, was instrumental in the Foundations initial success. The two joined other key contributors – Michael Bennett, Yolanda Klempfner AO and Annemarie Rolls in filming footage to celebrate the Foundations 20th anniversary of awarding scholarships.
---
PODCAST:

Empowering the Future - Unleashing Energy & Education with Nicholas Maurer
---

---
In this weeks podcast, we speak with Nick Maurer, 2023 BHP John Monash Scholar about his passion for future decarbonised energy systems, the importance of education and inspiring students to pursue tertiary studies.
---
Dr Johnathon Ehsani, 2008 John Monash Scholar and associate professor at the Johns Hopkins Bloomberg School of Public Health, was mentioned in an article regarding population driving trends in the US.
The article drew on Dr Ehsani's data insights to uncover the reasons behind a fall in young people's car ownership, particularly amongst teenagers. Read More
Dr David Smerdon, 2011 John Monash Scholar, has had his research quoted in an article from The Medical Independent. The team at the University of Queensland looked at the relationship between wearing a face mask and a participant's ability to play chess.
Dr Smerdon, an Australian Chess Grandmaster himself, found that "masks were more likely to decrease performance in situations where there was a demanding mental task with a high working memory load."
"This is something to keep in mind for occupations in the STEM fields of science, technology, engineering, and mathematics, as well as other professions that demand a high level of working memory, such as language interpreters, performers, waiters, and teachers." Read More